Herndon, VA Residents: Get Your Property's Best Quality Septic Service
As a homeowner or business owner in beautiful Herndon, VA, you know the importance of a properly functioning septic tank. But trust us; we get it - finding a trustworthy septic service provider can be nerve-wracking. That's why Martins Pumping Service, LLC. is here to put your mind at ease!
Our team of knowledgeable professionals has over 50 years of experience in the industry, and we're ready to handle all of your septic needs, big or small. Whether you need regular maintenance or emergency repairs, we've got you covered!
Get the Most Out of Your Septic System in Herndon, VA
Properly maintaining your septic system is essential for extending the life of your tank and keeping hazardous materials contained. From septic tank installation to regular maintenance, our experienced technicians provide top-notch service that doesn't stop until the job is done right.
Our crew is dedicated to keeping your system safe, sanitary, and in optimal condition so you don't have to worry about any smelly surprises or costly repairs down the line.
Septic System Maintenance Services
Septic Pumping: Our septic tank pumping service in Herndon, VA, is designed to help you maintain a healthy and efficient septic system for your property. We guarantee to clean your tank thoroughly and efficiently, leaving it working properly.
When you call us, our expert technicians will pump your tank and provide professional recommendations for a more efficient system.
Septic System Inspection: If you plan on moving in or out of a property, we strongly recommend running a thorough septic system inspection before doing it. Our team can help you with it using advanced camera-assisted septic inspection methods to improve the efficiency of this job.
We can provide you with a detailed digital report of your entire septic system. Hence, you're aware of any issues that need to be addressed.
Septic System Repair: If your septic system isn't working correctly, our specialists have the proficiency and know-how to fix or replace whatever is broken. Our team of experts will help you mend any broken pipe or component of your septic system promptly and proficiently.
If you notice any of the following disruptions, your septic system may need some professional help for a repair:
Unpleasant odor lingering near your home.

Contaminated drinking water.

Slow-draining drains and sinks throughout the house.

Septic system wastewater seepage in your lawn.

Toilets backed with sewage.
Septic Pump Repair And Replacement: If you experience frequent breakdowns, repairs are not what your septic system needs anymore but a replacement of the piece that is not working properly. Our technicians can help you replace any part quickly and professionally.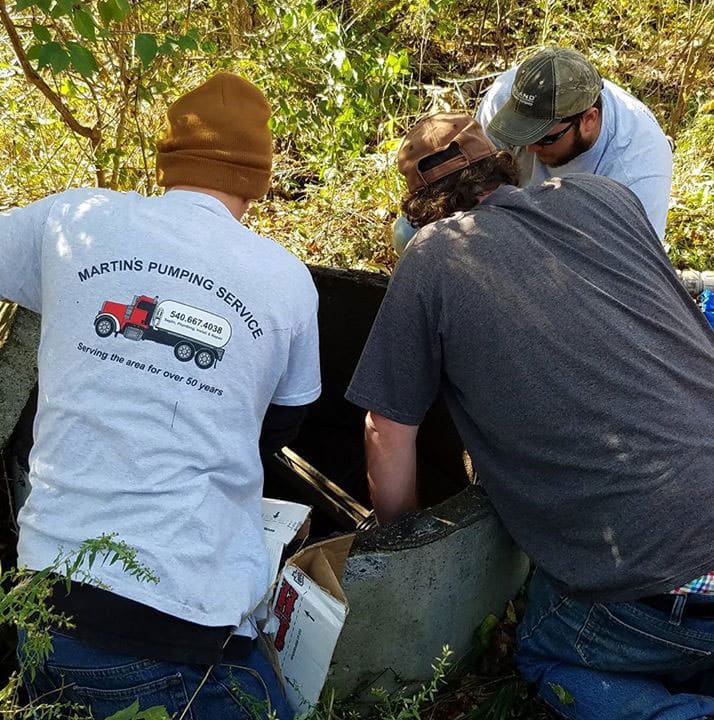 Septic System Installation Services
Septic System Installation: Choosing the right septic tank for your property can be challenging. At Martins Pumping Service, LLC., we help you to choose the right size and best material for your septic tank according to your property. Our specialists will ensure your septic tank is installed correctly and efficiently.
Drain Field Installation: The drain field is an essential part of the septic system, allowing wastewater to be dispersed efficiently and effectively. We have the proper machinery to bring in the septic tank pipes, and our expert team will assist you with finding the best location for your drain field.
With us, you don't have to worry about the necessary permits to carry out drain field installation since we already count on them!
Keep Your Property's Septic Tank In Top Shape With Martins Pumping Service, LLC.
Are you tired of worrying about the health of your septic system and how it will affect your property and people? Don't let the stress weigh you down any longer. At Martins Pumping Service, LLC., we offer you excellent customer service, top-notch materials, and workmanship in all our septic services in Herndon, VA. 
With us, you can be sure that your septic tank cleaning and pumping needs are in good hands! Let's work together to keep your septic system clean and functioning properly:
Fill out our

contact form

or call us at (540) 824-4205.

Get a free quote.

Get your septic system in top shape with us!
"I called Martin's pumping service after a bad experience with another company. Martin's was able to set me up for the very next day and the guys were here first thing in the morning. They explained what they were going to do and what to look for in the future. I would highly recommend this company! They were not only professional, but they were informative, extremely reasonable on their price, and we will definitely be using them in the future!!!"
"Great service from Matt and Jeff this morning. Our annual septic inspection went smoothly. As always, efficient, professional service!!"
"Love them! They have helped me multiple times for my real estate renovations in Clarke County. They are my go to company for septic system pumping, inspections, and repairs. Use them and you will be glad you did."
"The crew showed up on time for my inspection and pump out. They had to do a lot of searching to find the tank on the old property but they eventually found it and were able to give me the all clear on its functioning so we can proceed with the purchase of the house. The one gentleman took the time to explain a few things to help me get my camper hooked up while we build the house."
Proudly Serving Herndon Junction. An amazing Virginia town!
The anatomy of a perfect small town like Herndon Junction doesn't come in just one idyllic shape or size, nor does it ever look or act in quite the same way. Some Virginia cities show their personality by way of tiny historic downtowns, while others spread out their charm across sprawling parks and rivers.
However, what all of the South's most treasured small towns do have in common is that each possesses a strong sense of place and presence, no matter how little square footage they actually hold.
The heart of the South can be found in Herndon Junction if only you're paying close enough attention to what the storied streets, friendly locals, and lovable quirks are telling you. Add each of these winners to your dream travel itinerary, and you'll be eating beignets, dancing to bluegrass music, and exploring some truly magnificent scenery in no time. How's that for your bucket list?